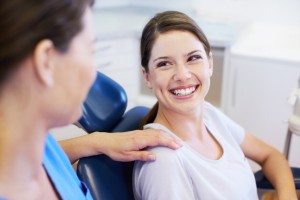 Does thinking about the dentist put knots in your stomach? Does actually walking into the dental office cause a panic attack? Did you know you're not alone? There are actually millions of Americans who feel exactly the way you do, and sadly, fear or anxiety actually keep them from getting the dental care they need. At Halifax Plantation Dental, we never want fear to keep our patients away and Dr. Jennifer Fraser has solutions for you. Here's more information about sedation dentistry in Ormond.
What is Sedation Dentistry?
Your comfort is truly our top priority, and you'll notice this right away in the special amenities you find at Halifax Plantation Dental. We offer comforting warm blankets and scented eye pillows to help you relax, as well as aromatherapy and paraffin treatments during your procedures.
If this is not enough however, Dr. Fraser offers a couple of options for sedation that can help you relax and feel at ease during your treatment. She can discuss your concerns and goals with you prior to your procedure in order to recommend the type of sedation that will best suit your needs.
Nitrous Oxide
Nitrous oxide is a breathable gas administered through a mask during your appointment. It works quickly to help you feel calm and relaxed, it also leaves your system just a quickly so you can plan to drive yourself home from your appointment and proceed with your normal activities.
Nitrous can be used for all types of appointments, whether you need a simple cleaning or more complex procedure such as root canal therapy. It's also safe for children.
Oral Sedation
With this type of sedation, Dr. Fraser will prescribe medication for you to take one hour prior to your procedure. While you'll still be conscious and responsive, the medication will guide you into a state of deep relaxation. You may feel like you were asleep, and you'll have little to no memory of what went on during your appointment.
Oral sedation is ideal for those with mild to moderate fear or anxiety, or those with special needs. It also works well for longer procedures with multiple treatments. Due to the nature of the medication, you will be required to have transportation in place to and from your appointment. You should also plan to limit your activities on treatment day.
If you feel anxious about dental appointments, we encourage you to call our office to learn more about how sedation dentistry can help you.