Cosmetic Dentist Enhancing Smiles Near Ormond Beach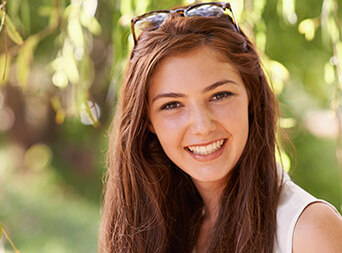 When you smile, do you do so confidently or do you feel self-conscious? For some patients, just the thought of letting others see their teeth can be enough to cause anxiety. The good news is that a beautiful smile is possible with cosmetic dentistry. With the range of services available today, patients who never imagined that they could ever smile openly around others may finally be able to do just that.
Of course, no single plan is right for every patient. When you come to our Ormond dental office for treatment, you'll find a dentistry team dedicated to helping you achieve flawless smile results. Starting with a consultation, Dr. Fraser familiarizes herself with your needs and talks to you about your goals. Based on these conversations and examinations, she'll recommend the service (or services) that are right for you.
Contact our office today if you're ready to begin transforming your smile.
In-Office Whitening
Do you wish you had a brighter smile? You're not alone. Because staining is something we all face, you don't have to look very far to find products that claim they whiten your teeth. But there's a tremendous difference between a simple whitening toothpaste and what a professional whitening system can do. That's why our office is proud to offer whitening with Boost and Kör Whitening, two of the most effective whitening systems available. Using these systems, our Ormond Beach dental team helps patients achieve results that would be difficult to achieve with almost any other system.
Would you like to learn more about what's possible with teeth whitening from Boost and Kör? Dr. Fraser would be happy to answer your questions during a special cosmetic consultation. Give us a call to reserve your visit.
At-Home Whitening with Opalescence
Are you interested in whitening your smile in the comfort of your own home? With Opalescence at-home whitening, you can achieve the same results that you can with an in-office system, but at your own pace. Within a few days of beginning your treatment, you'll begin to notice results, with your fully brightened smile appearing in about two weeks. You can also use Opalescence to touch up your in-office whitening results. Click here to learn about our Opalescence special.
Clear Braces
Clear Braces are designed to help patients who would feel uncomfortable wearing traditional braces. Instead of using metal brackets and wires to produce straighter teeth, clear braces use a series of carefully designed clear aligners. These aligners are nearly invisible and can be taken out for meals, brushing, and flossing.
Veneers
Veneers are made from thin pieces of dental porcelain and are affixed to your front teeth to help you hide stained, chipped, cracked, oddly spaced, or misaligned smiles. Each one of your veneers is custom-shaded and carefully shaped to blend in and look natural. In addition to yielding great results, treatment with veneers is fast—in most cases, it only takes two visits to completely transform your smile.
All-Ceramic Restorations
Do you need to restore a cracked or decayed tooth with a crown? An all-ceramic restoration strengthens your tooth without compromising its appearance because all-ceramic restorations have an appearance that closely mimics the appearance of a natural tooth. In most cases, restoring a tooth with an all-ceramic restoration can be completed in just two visits.
Soft Tissue Laser
Have you ever felt that your smile appeared stubby or gummy? With laser gum recontouring, you can have a remarkably different smile with a simple, non-invasive procedure. During a recontouring procedure, our soft tissue laser removes excess gum tissue from around teeth unveiling your full smile without the need for a scalpel or stitches. Learn more by calling our visiting our dental office in Ormond, FL.
Snap-On Smile
Are you looking for an affordable alternative to porcelain veneers? Let our Ormond dental team talk to you about the benefits of Snap-On Smile. This cosmetic solution uses trays made durable dental resin to create a beautiful, natural-looking facsimile of your smile that you can wear while you eat and drink. Your trays are also guaranteed to provide years of improved confidence and wellbeing. Beautiful cosmetic results are within your reach! See for yourself how Halifax Plantation Dental has made an impact on our patient's smiles!