Restoring Smiles with Dental Implants Near Ormond Beach, FL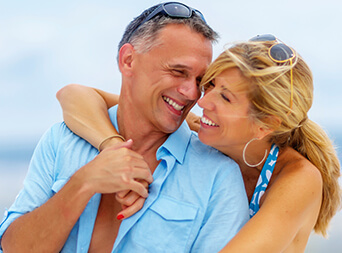 Before dental implants became the popular restorative solution they've become, the best option for replacing missing teeth was a bridge or a removable prosthetic like a partial or full denture. Restorative care with a bridge meant making serious changes to otherwise healthy teeth, and removable prosthetics can lose their close, comfortable fit over time.
Dental implants, on the other hand, provide patients with supremely lifelike results because an implant-supported restoration has a structure that closely mimics the tooth-and-root structure of the natural tooth.
Treatment with dental implants takes several visits to complete. During the first, one or more titanium implants is surgically placed in the jawbone and then given time to fuse with bone tissue (a process known as osseointegration).
In the second phase of treatment, you'll return to our Ormond office to have the finished crown, partial, or full denture attached. Because of the strong bond that has formed between your implant(s) and jawbone, the final dental restoration has a strong foundation. Imagine yourself enjoying foods you haven't been able to eat in years like biting into a crisp apple. Now, imagine smiling with a newfound sense of confidence. With dental implants, you can look forward to both of these dramatic results.
Are Dental Implants Right for Me?
Not everyone is an ideal candidate for dental implants. A true implant candidate has a strong immune system and a dense enough jawbone to support the implantation of one or more titanium implants.
Would you like to know if dental implants are right for you? Dr. Fraser would be happy to meet with you for a full oral exam and consultation. During your visit, we'll discuss treatment options and answer any questions you might have. Contact our office today to reserve your visit.