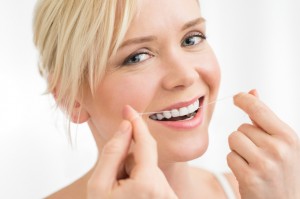 We all know that brushing and flossing our teeth daily are an essential aspect to protecting our beautiful smiles. While 69 percent of Americans brush their teeth at least twice a day as recommended by the American Dental Association, only 41 percent of Americans floss their teeth daily. In addition, another 20 percent admit to never flossing. In light of a recent article by the Associated Press claiming that flossing is not important, now even more Americans are at risk of oral health complications due to further misconception about the importance of flossing. As your dentist near Ormond, Dr. Jennifer Fraser is here to clear the air about the benefits of flossing.

Flossing Does Matter
Despite the recent claims in the Associated Press article, flossing is vital to preventing gum disease. Although the article states there is little evidence to support the effects of flossing, clinical evidence supports the benefits. As a trusted dentist in the community since 2007, Dr. Fraser has seen the benefits of flossing first-hand in the prevention of gum disease.
Gum disease develops when an accumulation of plaque and tarter develop around the gum line. Bacteria thrive in plaque, causing the gum tissue to become infected. In addition, gum disease is directly linked to causing a diversity of overall health complications, including cardiovascular disease. Brushing is not enough to remove all of the bacteria from the gum line. In addition, brushing cannot remove trapped food debris and bacteria from between the teeth. As a result, cavities are likely to develop when flossing is not performed daily.
To protect your oral and overall health, daily flossing must be incorporated into your daily oral hygiene routine.
Protect Your Smile with Daily Flossing
When caring for your smile, it does not matter if you floss your teeth before or after you brush. In addition, it does not matter if you floss in the morning or at night. However, most people prefer to floss after brushing and many dentists recommend flossing at night to remove the bacteria and food debris that has accumulated throughout the day.
Choose a dental floss that has the American Dental Association seal, which means the ADA supports that floss as effective. Hold about 18 inches of floss between both index fingers. Gently slide the floss in between two teeth and form a "C" shape around the tooth. Carefully slide the floss down to the gum line with a back-and-forth motion and then back up to the top of the tooth. Repeat this process for each tooth at least once a day to protect your smile.
Your Dentist near Ormond for Health Smiles
Brushing and flossing daily are a vital component to preventive care. In addition to your home oral hygiene routine, you need to schedule an appointment with Dr. Fraser twice a year for regular checkups and cleanings. With the right home care and Dr. Fraser by your side, you will protect your smile and health from damage.
If you need a 6-month checkup, contact Halifax Plantation Dental Spa today to schedule an appointment.