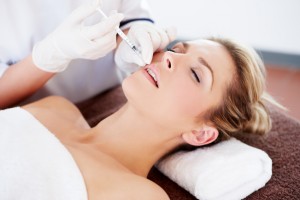 Botox is on the rise. Our desire for wanting to look younger certainly hasn't waned — but the willingness to go under the scalpel for younger skin has. As people start to move away from invasive cosmetic procedures, they find that Botox offers an effective, minimally-invasive alternative. Still, myths remain about its use and application. Dr. Fraser provides Botox in Ormond Beach, FL — keep reading to learn the facts of this popular cosmetic procedure.
Myth #1: Botox is for existing wrinkles
Many people believe Botox is something you choose once you already have wrinkles. But it's actually a good preventive measure, too. Starting your Botox treatments early can help retrain your face to avoid making certain wrinkle-causing movements or expressions. That can help prevent the lines from occurring in the first place, requiring less Botox later on. We're not saying 18 or 22 is a good age for Botox, as you can be too young for the treatment. But the truth is, the time to begin fighting fine lines and wrinkles may be earlier than you think. Some patients begin Botox in their 30s.
Myth #2: Botox is just for women
Botox is frequently considered a procedure for women. While many women do choose Botox for reducing fine lines and wrinkles, its use is certainly not limited to one gender. Plenty of men choose Botox to achieve a more youthful look and to smooth out their facial skin, and the number of men undergoing Botox treatments is rising every year.
Myth #3: Botox is only for wrinkles
A lot of our patients are surprised to learn that Botox has plenty of applications outside of smoothing the facial skin. Sometimes, its cosmetic benefits are merely a pleasant side effect on the quest for another goal. Botox can be used to reduce chronic migraines or to reduce jaw clenching and teeth grinding as treatment for TMJ/TMD (temporomandibular joint dysfunction). People who experience excessive sweating can also benefit from the fact that Botox temporarily blocks the sweat glands. Perhaps most surprisingly? Research suggests that Botox can actually help to reduce depression.
Myth #4: Botox may be unsafe
Some people continue to doubt the safety of Botox, despite the fact that it has held approval from the FDA (Food and Drug Association) since 1989. The truth is, when performed by a qualified doctor, Botox is a safe, effective method for reducing fine lines and wrinkles. Millions of patients have chosen Botox over the past few decades, with wonderful results.
Myth #5: Botox will make me look frozen
Rather than freezing your face, Botox relaxes the muscles in the place where it is injected. It may be placed around the crow's feet, in the forehead, the smile lines, or between the eyebrows. The surrounding muscles are not affected by Botox treatments, and you will still be able to express a wide range of emotions following your Botox injection.
An experienced doctor like Dr. Fraser will help you achieve a natural-looking, youthful, and radiant facial appearance with Botox. Would you like to learn more about the procedure? Please get in touch with our office today!